Happy salad season to you!
While I can hardly wait to get some lettuce greens into my ground (Come on ground! Thaw out already!), we are already craving crisp, fresh salads this early spring!
During the spring and summer, salads are on our table almost daily – especially once they start overtaking my garden! I make a different salad dressing every week, and that keeps taste buds happy and salads fun and interesting all season.
Why not just grab a bottle of dressing at the grocery store? Or better yet – an organic one at the health food store?
So glad you asked! Store bought salad dressings are one of the most "green washed" products on the market if you ask me. Just because a label says organic or "lite", or seems "healthy" – sometimes it isn't.
One way I keep myself with getting frustrated over what products are safe and which are not is by reading ingredient lists. Not the calories, grams, or the percentages of fat. I'm talking the little list of what is actually *in* that darn bottle you will be putting in your body! And for dressings, it's pretty easy in my book. Toxic, rancid, hydrogenated, GMO and PUFA filled oils like soybean oil, vegetable oil, and canola oil should never be on the ingredient list. Peroid. It just isn't worth it. And it is incredibly hard to come by salad dressings in the store that don't have at least one of those oils. THIS is a great resource to learn about the difference between the different oils.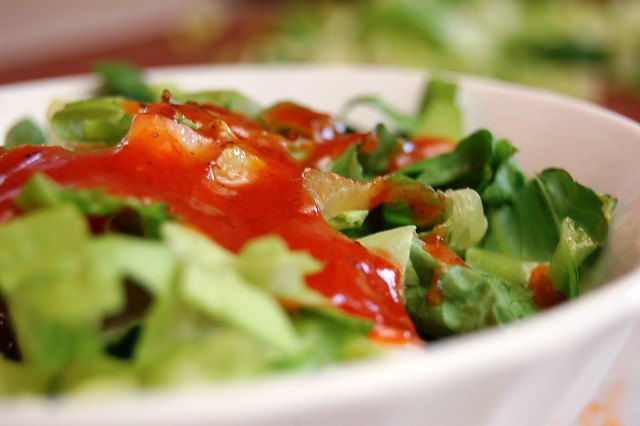 So here are some dressing options! I'm all about simple, FAST, and flavor!
I'm talking throw everything into a jar and shake it up.
Each one of these won't take you more than 5 minutes to make up and it will last a week or 2 in your fridge. And the flavor will blow you away!
---
"RANCH" DRESSING:
---
Everything into a pint jar and stir up. If you want a thicker, "dip" sort of Ranch for carrot sticks, etc, you can leave out the milk or only add a few splashes. If you rather it runnier then you can add more milk.
---
"FRENCH" DRESSING:
---
Everything into a pint jar with a tight lid and shake well to combine. Shake before each use as well. This dressing is also a great one to use on taco salad night – it is very similar to the "catelina" type dressings some restaurants use on taco salads.
---
"ITALIAN" MIX AND DRESSING
---
ITALIAN SEASON MIX:
Add everything together in a small container with a lid (empty spice jars work great), put the lid on and shake it up to combine. Also tastes great to sprinkle on stir fry or to a roasted chicken!
ITALIAN DRESSING:
Everything into a pint jar with a tight lid and shake well to combine. Shake well before each use. Store in the fridge.
---
"THOUSAND ISLAND" DRESSING
---
Everything into a pint jar and stir together. Store in the fridge. If you want a thicker Thousand Island for spreading on a sandwich or wrap add more sour cream.
---
FIESTA SALAD DRESSING
---
Everything into a processor or blender to blend together. Store in a pint jar in the fridge. If you want it thicker for spreading on sandwiches or wraps add more avocado or sour cream.
Ok! So keep me posted on which dressings you are loving! And by the way! Treat yourself to a
salad spinner
if you don't already have one! You can wash up and have ready to go salad everyday of the week in your fridge! My routine is pick from the garden and wash up right away, into the salad spinner, and into the crisper in the fridge! It keeps much longer!
This post was shared at Fat Tuesday, Real Food Wednesday, and Allergy Free Wednesday!