I really think everyone should have a good, basic biscuit recipe in their back pocket.
There is a reason the idea of breaking bread with family resonates with so many, and I think it's because bread brings a warming comfort to the table no matter the meal.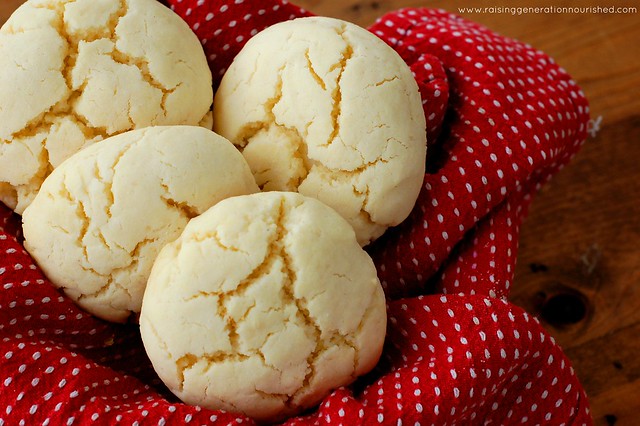 One of the reasons I have gotten my biscuit recipe so perfected is because we are a gluten free house.
Gluten free bread is so pricey and just not in our budget most of the time.
And it is really fussy to make a loaf of gluten free bread.
I like having something like bread to go with soup, but I also don't always have a ton of time to spend in the kitchen.
The goal when I created this biscuit recipe was quick and convenient.
Something I could do when I decided at 3pm that dinner is going to be a bowl of soup and bread…I'm such a planner you know. My favorite part about this recipe is that
you can literally dump it all in the food processor and scoop it onto the baking sheet in about 7 minutes!
Most of the time I don't even take the time to roll nice, neat little balls – you really can just make it like a "drop biscuit"
– I love the feel and look of an imperfect shaped biscuit anyway! The recipe is quite forgiving and you can make the biscuits the size and shape you want. Since I have little hands eating them, I like to make them pretty small – they don't like the idea of me having to "halve" their biscuit! They want one all to themselves!
When I make them small enough for the little hands in my house I can get a little over a dozen biscuits out of this batch. I usually have leftover soup to serve the next day so it is a great amount to serve both days for my family of 5. Or to have in the morning with breakfast.
If you have ever tried gluten free baking before, you know that it is really easy to make things feel like a brick. I promise these are light and fluffy – you will feel like you are having the real deal.
The flavor of the biscuits is buttery and satisfying, but neutral enough that you can use them both for dunking in your bowl of soup, or serving at breakfast with butter and honey.
Product links in this section are affiliate links. It does not cost you anything and helps maintain the free information on this site, as well as answer the questions of "what brand do you use!" Please know I would never personally recommend any product I wouldn't use on my own family.
Sweet or Savory Gluten Free Biscuits
Necessity is the mother of invention. Gluten-free biscuits are really expensive so making them myself became a priority.
Instructions
Everything into the food processor and pulse to get it going then combine all the way – start with the ¾ cup on the milk and then add more if the dough is dry – the dough should gather into a ball all together within a minute or two of blending. If the dough isn't gathering just add the rest of the cup of milk.

Roll into balls and flatten how you want them OR just drop them quick on a Silpat or parchment paper lined baking sheet. They will turn out either way – rolled or dropped.

Bake at 425 degrees for 8-10 minutes. Let them cool a few minute before serving.
Keep me posted how the family likes them with their breakfast and/or dinner!
This post was shared at Real Food Wednesday