Quick preface! I'm not a doctor and don't claim to be one! If you have a kiddo with really labored breathing or really struggling with a cough, you should be seeking medical assistance via ER or your doctor's office. There is definitely a time and place for both! This is my own experience using onion poultice with my girls for chest colds and you can use the method at your own discretion. Product links are affiliate links. It does not cost you anything and helps maintain the free information on this site, as well as answer the questions of "what brand do you use?" Please know I would never personally recommend any product I wouldn't use on my own family – what is linked here is exactly what I use.
I'm not sure there is a much more of a panicking middle of the night wake up call than a barky seal cough from your child.
The very first time it happened to me as a mom, my oldest was about 3 and it scared the living daylights out of me! I remembered reading that cold air helped them calm a cough down so my husband held her in a blanket on the snowy front step of our house, and within seconds her cough calmed.
I learned quick that it is really no fun to have a sick kiddo and I started studying tried and true natural ways to help children get through an illness. As it turns out many simple, old natural remedies that our great grandparents probably used are super effective, and an onion poultice for chest congestion is one of them.
The combination of the warm, moist onion poultice with the natural expectorant quality of the onion help to break up the congestion.
My experience using this on my girls has been very successful and within a good 10 minutes of wearing the pack they are able to cough more freely and easily to loosen it all up and get it out.
So we have agreed this onion poultice thing is great…
but getting a 3 year old to agree that the onion poultice is great can be tricky – let alone a sick 3 year old!
Here are some ways I have made this process more successful for everyone:
Be sure the poultice isn't too hot. What feels warm and good to you is probably still too hot for little ones in my experience. I let the poultice cool off for a good 5 – 10 minutes after coming out of the pot. It shouldn't be uncomfortable or hurt – it should be warm and comforting to them.
Let them pick out the towel to use. I actually got a cheap pack of tea towels with bright, fun colors just for using with onion poultices for the girls. It came with 4 towels so I have enough to rotate around if I have more than one with a cough and if I have to get 1 or 2 into the laundry.
Spray some lavender essential oil or other essential oil blend that they like on the top of the poultice that will be facing up so they can smell that instead of the onion. This last cold we ran through the house I actually sprayed the Calming the Child blend from Plant Therapy, and really felt like it kept things calm too. I have a small spray bottle with water and about 10 drops of the EO in there. Just shake it up before you spray. You only need a small spray or 2! If they are really sensitive to the onion smell you can put an extra towel over the top of the poultice and then spray.
Get a distraction going *before* you put the poultice on. Get a stack of books next to them for them to read or for you to snuggle up to them to read to them. We don't have the TV running all day, but when you need a child to sit still for 15 or so minutes, putting on an appropriate educational show or musical isn't the end of the world in my experience. I used the girl's LeapPads for games while they lay there too.
One of my girls really liked the idea of making her a "nest" to lay in on the floor while she had hers on – a big pile of blankets in the shape of a circle with her favorite stuffed animals (and her big sister laying next to her too!).
I'm not against a reward system for the really little ones. My 5 year old can understand the importance of sitting still for the poultice to work, but last year my 2 ½ year old did NOT. Doing 5 minutes or so at a time and getting a sticker or something helped move things along without the fight. This year at 3 ½ she understands better and wanted to get better so reasoning with her is just much more do-able.
Let them know the why 🙂 You can tell them it will help them get the gunk out of their chest so it doesn't get infected and so they get better faster! It's amazing what they understand! And amazing what they will go from not wanting to do, to willingly doing when they know what to expect. And really the warm pack feels good and is really comforting and warm – once they feel it usually my girls are willing to have it on for a while.
So here is how to make a simple onion poultice for kids!
Please keep in mind that if your child is really laboring with their breathing and things just don't feel right you should be going to the ER and/or calling your doctor.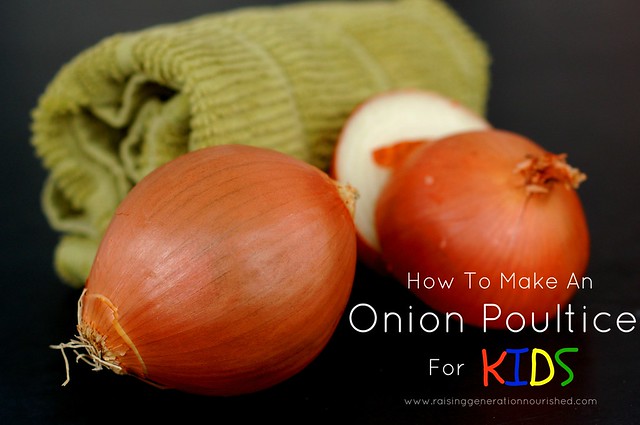 How To Make An Onion Poultice For Kids
Ingredients
1

medium onion

sliced

Water to cover the bottom of your sauce pan
Instructions
Put the water in the bottom of your sauce pan along with the onion and bring to a simmer with the lid on for 10 minutes.

Strain out any extra liquid and put the steamed onion into a thin kitchen towel or tea towel and fold it up. I like to lay the towel out horizontal and fold the top and bottom up over the onion, then fold the sides in – like making a burrito. Their little chests are so tiny so just be sure the onions in the middle aren't all spread out.

Let the poultice cool for about 5-10 minutes before applying to your child's chest. My youngest needs it cooled even longer as her tolerance for warm even in a bath is cool to me! Let the poultice sit on their chest up to 20 minutes if they will sit there long enough.

You can re-heat the poultice throughout the day. I like to just put the whole poultice right back in the pan and warm it on low heat. Discard the onion after using it for a day.
Here is another great resource about naturally dealing with chest congestion. I also like to use the Hylands Cough N Cold remedy
at nighttime finding it really helps with calming the cough and helping them rest.
You can also read about natural flu remedies HERE and how I was able to clear up an ear infection in my oldest naturally HERE.
And come follow my pintrest board My Herbal Ways for more natural and DIY remedies.